Class on Wednesdays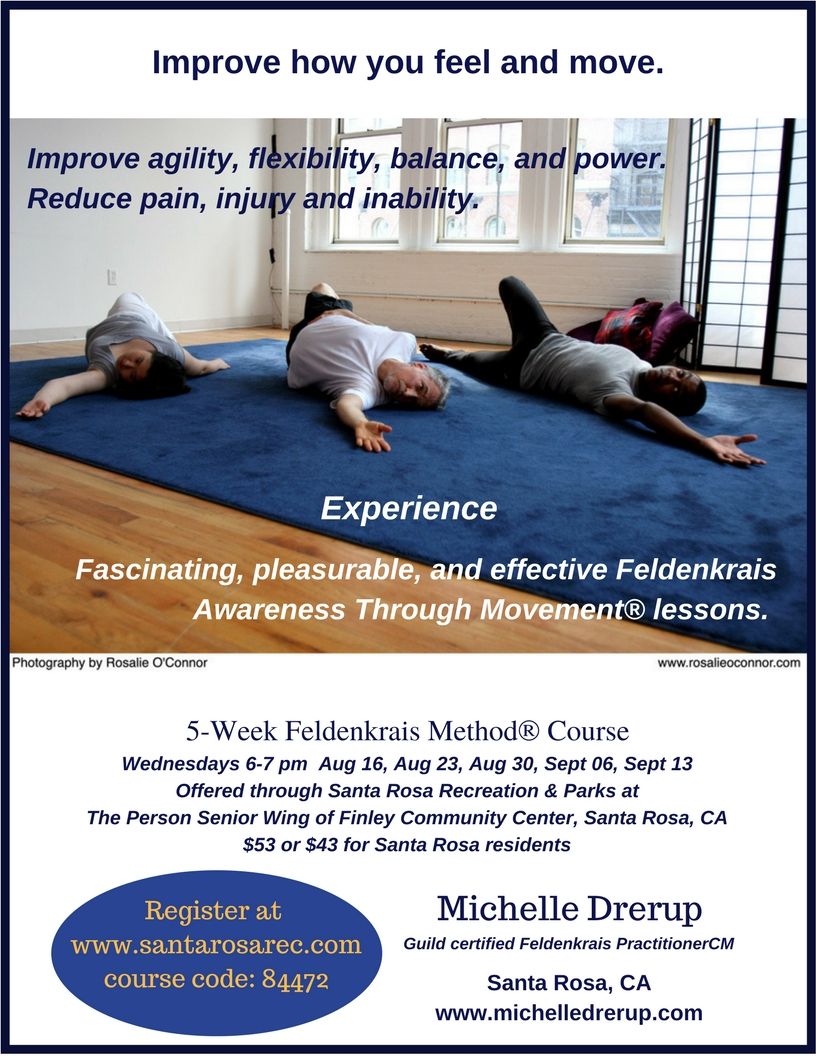 5- week course costs $53 or $43 for Santa Rosa Residents.
Register for this course online or call Santa Rosa Recreation and Parks at 707-543-3730

The course barcode you will need to enter to find this class is 84472.

If you have any questions about this course, please give me a call at 510-459-9987.
In each class, I will verbally guide you through a series of movements, while also guiding your attention to sensations that accompany those movements. Your attention will be on what's happening inside yourself and the relationship between you and your environment. You will be asked to try many variations and to feel the differences. In this way, your nervous system will naturally choose what works better for you. Each class is an exploration of a particular pattern of movement that you will find in your daily activities as well as in specialized skills.
The result of each class is a wonderful sensation of greater comfort, pleasure, spontaneity, flexibility, and power. You will also discover a notable difference in the coordination and effectiveness of how you use your entire body. These changes need reinforcement to take hold in a lasting way. With regular practice of Awareness Through Movement, you can incorporate new patterns of efficient movement into your movement repertoire, so they are easy to access when you need them.
* If you cannot comfortably lie on a hardwood floor (with some padding), or if you have serious pain or injury concerns, please call me to talk about accommodations that might make the classes work for you. It may be that you need private lessons.